Until recently I hadn't fully apprecaited how different the Castrovalva console was compared to Logoplis, which is different again to how it appeared in Key to Time. This lead to an exhaustive investigation and another interminable write-up in which I actually started with the Tom Baker console history and expanded it from there. But the real fruit of the labour was compiling enough visual reference to create accurate models. We start with possibly the most well-remembered set:
The Season Fifteen TARDIS Control Room Set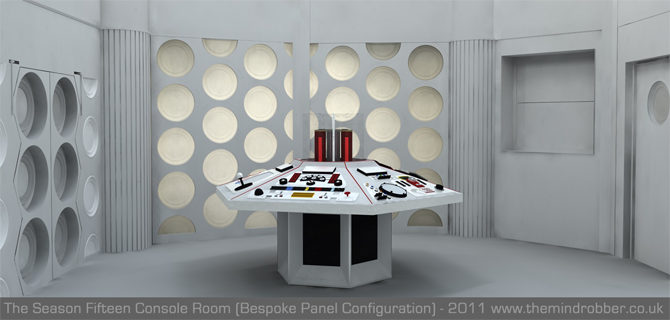 The above version of the TARDIS interior first appeared in the Invisible Enemy after the wooden version had been used for Season 14. At the centre, the v3.0 console built for Tom Baker returned, but it was heavily refurbished since it had last appeared in Season 13. The new TARDIS walls featured elements recycled from the wooden control room, and this style of the new set which would last until the classic series was cancelleld. N.B. The term "Bespoke Panel Configuration" refers to the fact that the panel sequence was not fixed and this order was as the prop was built, rather than on-screen.

You can view the spinning 360 Invisible Enemy Console here which is an interactive image which will allow you to rotate the virtual prop to see all the controls. This feature is fully cross-browser supported and there's even an iPad/iPhone sniffer which should redirect you to a touch-screen version.
The Season Thirteen TARDIS Control Room Set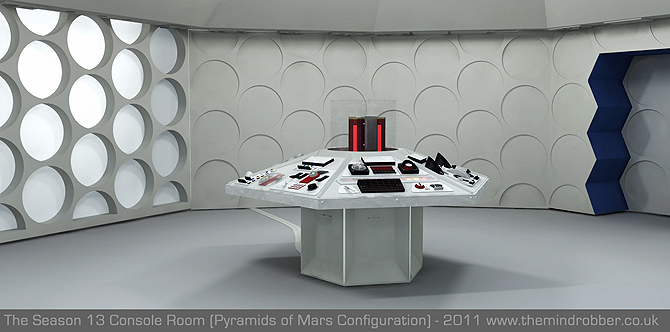 The above Season 13 set was first assembled for recording Pyramids of Mars, and used components left over from earlier eras. The canopy atop the walls and the saw-tooth door were first seen in The Time Monster and the deep roundels had been a part of the set since 1963. The console v3.0 was built new and would last many years in different guises.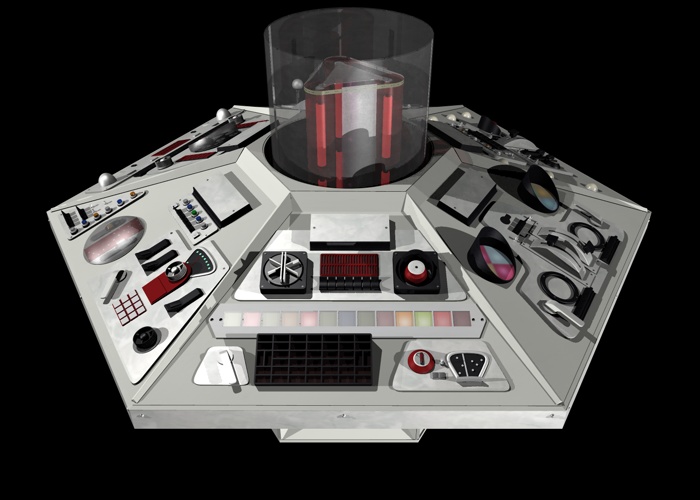 View the Pyramids of Mars 360 Console for an interactive renditionon of this prop, which will allow you to spin it round yourself and view all the controls, some of which get almost no-screen time before the prop was retired.
Coming soon - the Logopolis console room. Follow me on Twitter for notifications of new stuff!