Dalek Hierarchy and History

This is a breakdown of an interpretation of the Dalek hierarchy as seen on TV episodes, and how the TV stories may fit together. Films (and therefore the funky Red Daleks) are sadly excluded as they tell the same stories as TV adventures so they can't really co-exist.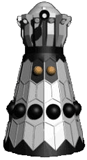 The Emperor
The Throne Room 'Black' Daleks - The Emperor's Entourage
The Supreme Council - Rarely seen away from Skaro
Black Daleks - Normally assigned to oversee major operations outside Skaro,
such as invasions, chases through time, recovery operations, etc
The Science Drones - Silver Daleks seen mostly involved in the heart of Dalek
development, building cities, time-machines, flying saucers, mines, etc.
It seems that this breed elevated themselves above the Dark Grey/Black Drones that were created first by Davros
The War Drones - Bred originally by Davros to be very loyal and unquestioning, these dark grey/black Daleks were used to build armies and as front-line troops in invasions.
Although seemingly less intelligent than the silver versions, they appeared to flourish away from their homeworld. However their lack of adaptability led to them seek out their creator but even he was unimpressed with their exploits and without the guidance of the original Emperor, they were reduced to an underclass struggling again his new breed.
Other types of Daleks existed after the original "native" Daleks were wiped out. Davros, frustrated with the behaviour of his creations set about using human remains to create new Dalek embryos on Necros. Similarly when the Emperor resurfaced 500,000 years in the future, he too recycled human bodies to build a new army.