DalekTron - Doctor Who Dalek Arcade Game

Here you can download a great little Doctor Who Dalek arcade game called DalekTron created by Andy Bower using Dalek graphics provided by yours truly.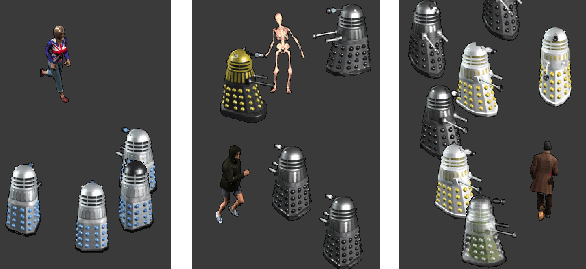 Don't forget to read the ReadMe and get your name on the online high scores table. Scores are grouped into keyboard scores and gamepad scores. Can you complete this fiendish Dalek arcade game?

Click here to download DalekTron

Andy Bower and his son James have together made a great Dalek arcade game for the PC. I was approached to provide the 3D Dalek models in order to create the sprites for the game but due to the complexities of exporting my Daleks from MAX it became easier for me to just do the renders myself. Ultimately this became a great advantage as it spurred me on to make the adaptations to my existing Dalek meshes in order to prove a more extensive set of models.

From the initial conversations we'd had about a handful of Dalek types, a version of the game was soon produced which contained a near complete set of Daleks, representing every Doctor Who story from 1963 to 2005. I was happy to provide advice on the order of the episodes, the styles of Dalek for each episode, the Dalek heirarchy and various other geeky details in order to maintain the "fan factor". Andy and James Bower have created an excellent game in its own right but appeal to the Doctor Who and Dalek fans is what makes it a real triumph. I'm very proud to have had input into this game and its been very rewarding to see my models put to some use.

Click here to download DalekTron


More Dalek Games - Superb Gift Ideas

Doctor Who Dalek Board Game

The board game picks up the Doctor's story following his latest battle with the Daleks and the TARDIS needs repair. Travel through space and time collecting the components to fix the TARDIS without being exterminated by the Daleks! This game features interactive TARDIS and Dalek models!


Doctor Who - LCD Dalek Spaceship Game

Dodge the Daleks & their weapons in this fun little hand-held game, as you pursue attack the Dalek ship to win the battle & save the universe. Styled as a Dalek, the LCD, flips open to reveal the game! With sounds & 2 levels of play. Manufacturer's recommended age 5 years +.

It features: LCD display, Sounds, Flip open styled case, 2 levels of play. It requires 2 x AG13 button cell batteries which are not included. Manufacturer's recommended age 5 years +