The Sontaran Stratagem
Sontarans in the New Series of Doctor Who

The wonderful potato-headed monsters are back in the serson four, episode four, entitled The Sontaran Stratagem! A very "old-school" kind of story title which harks back to the second Sontaran story, The Sontaran Experiment.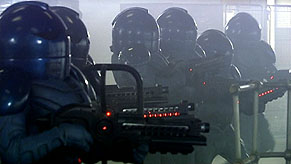 In the new series episode we get to see a Sontaran War fleet which has been a long time coming as previous glimpses of the largest military fleet in Doctor Who have only shown three ships together at most. Click here to see Sontaran Spaceships.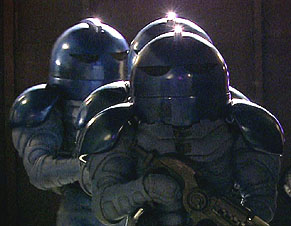 Former Doctor Who actor Christopher Ryan plays their leader, General Staal and his second in command Dan Starkey he can been seen on the right as Commander Skorr in his impressive blue military unform.

The Sontaran Stratagem is written by Helen Raynor who last year penned Daleks in Manhattan and Evolution of the Daleks and one of the weaker episodes of season two of Torchwood. The director is Douglas Mackinnon who was the main director for the superb Jekyll starring James Nesbitt.

Click here to read the Sontaran Fact File!