Doctor Who at the Cavern Club - A Great Success
This was the first event organised by local Doctor Who group "Fans Like Us" and my first ever attendance of any Doctor Who event. I hate to use the word "convention" because it has such a stigma attached to it and my day at the world famous Cavern Club was nothing like the kind of dress-up-as-a-Monoid hotel milarky one might expect from a "convention".

Introduction

The venue was great. A perfect size for the number of people in attendance and the setup worked a treat. The backroom staff worked miracles behind the scenes when at the last minute, they were let down by the sound and lighting engineer and considering the trauma involved, the delay at the start was relatively minimal. In fact it was probably for the best if everyone else was anything like me and still half alseep at 10am, but just about aware of my surroundings by 11am!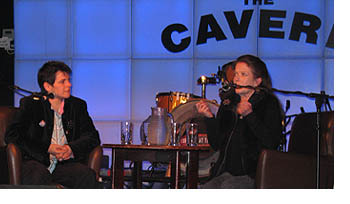 The interviews kicked off with the charming Debbie Watling, interviewed by Doctor Who Mastermind winner, Karen Davies. The interview was a solid start with some great remniscances by Ms Watling about her time on Doctor Who and raised many a laugh, including talking about the time Fraser Hines and Patrick Troughton conspired to throw her in the foam during Fury from the Deep. I'm sure to the seasoned convension attender these were all old stories but I very much enjoyed hearing her talk. Ms Davies was very compitent indeed and kept the interview flowing without being obtrusive.

My Highlight of the Day: Rob Shearman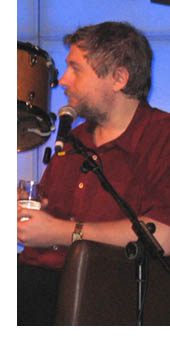 Next up was my personal highlight, Rob Shearman, writer of the Dalek episode from Season One of the new series. His insight into the writing process was great and it was fascinating to learn how much of a free hand he had had in crafting his episode. I had always assumed that he had been guided away from certain elements of Jubilee and had to adapt them to a new setting whereas in fact his only real guideline was to take the one-Dalek aspect of Jubilee and ensure he wrote in the crap companion Adam. It's worth mentioning a link to Colin Baker's interview later in the day, in which he discussed the ninth Doctor and his dislike of certain elements of the character, one of which being the contrast to how "his" Doctor handled the lone, trapped Dalek. The sixth Doctor in Jubilee took pity on this poor creatre, whereas the ninth Doctor went all out to kill this unarmed Dalek.

I was lucky enough to speak to Mr Shearman, and ask him a couple of questions. Was there anything in the final screen version of Dalek he would have liked to have seen done differently? "If you look at my first draft it's got different characters in. And every single time it went through a change you have to embrace that and move on. There were things that I actually quite liked from my very first draft, different storylines, but you have to let them go. I was actually just so relieved that Jo Ahearne did such a good job directing it because the hard part is you hand it over and you're aware at that point you have no power at all, and the director and the actors and everybody can do what they want to that." He went on to say that if he had the chance he would have looked again at redrafting Van Statten's part, as he felt that by the end he had turned into very much a comic book villain. The problem being that any time given over to developing the human characters is time you take away from the Dalek and it was supposed to be about the Dalek. I also asked him if he wrote material that didn't make it to screen. He said that his was the first script that actually overran and had to be edited, whereas all the previous stories had come in under, leading to situations such as Stephen Moffat being rung up while abroad and asked to write two minutes of new material when he didn't have access to any of the lead actors or any established sets! Mr Shearman described a couple of bits he had had trimmed out, such as when the Dalek downloads the internet but has to sift through a load of porn first.

Rob Shearman also talked about the tone of his story and the worry he felt when he first saw Aliens of London and thought he'd got the feel of the new series completely wrong. With no real guideline he was working in the dark and the content of his episode changed through drafts. In his original draft he was working on the basis that there should be no visible deaths but upon delivery of this draft he was told to get some death in there! It was at this stage he went all-out on the sink-plunger scene, and in his nastier version the whole sucker-cup enveloped the head of the victim before the Dalek dangled the man by his head and threw his corpse against the wall where it landed with all the skin burnt off showing just a crushed skull underneath. Upon reading this Russell T Davies exclaimed "What have you done with my TV show?!" and Shearman had to find a middle ground.

Up Close and Personal

This interview was over too soon for me and the final guest of the first half was Eric Potts who played one of the three main Slitheen from Aliens of London. With his time relatively short on Doctor Who he spoke mostly about Coronation Street and I seem to be in the minorty in having no interest in that particular programme. Mr Potts was still a lively interviewee, with the questions being asked, rather surreally, by Ziggy from Grange Hill. This arrangement didn't work out completely perfectly as it ended up with neither guest nor interviewer having much link with, or inclination to talk about Doctor Who, and certain questions such as "Who was your favourite Beatle?" left me a teeny bit weary. Having said that, I did learn that Eric Potts is a drummer, so he naturally chose Ringo.

At the lunch break we had the great opporunity to get things signed and have a chat to the guests. I've never been much of an autograph hunter but I was more than happy to stick some money towards their charities and get my name (and theirs) scribbled across some photos by some lovely people who pretended to be delighted to see me. The good humour of all the guests was remarkable and a by-product of the quite intimate nature of the event. I have been to another convention before, a Babylon 5 one, and when two thousand people are queuing for autographs, you begin to lose the will to live and so too do the guests. All were in good spirits at The Cavern and there was enough time for chatting so that the signings didnt feel like a rush to get through everyone.

I was able to get another few words with Rob Shearman and I asked him about the aliens he was forced to invent at short notice when they lost the rights to the Daleks. It was an eery child-like creature who killed people with the catchphrase "Let's have fun!" Surely stolen by Stephen Moffat I thought? Mr Shearman pointed out that Mr Moffat was already guilty of that in taking his "Are you my father" from The Hole Terror! At which point he chose to draw Colin Baker's attention to this plagiarism and Mr Shearman told me that, should I ever meet Stephen Moffat, I should give him a kick. I said I would.

Colin Baker was larger than life, in great spirits and chastised me for leaning on a picture of his face and then buying the cheapest of the available photos. He flattered my girlfriend by asking if she was my daughter and offered his sympathy that she had been dragged along. We had a quick chat about football, I discovered he supports Wycombe and I then moved on to the lovely Debbie Watling. Ms Watling was sweet enough to pretend she thought she was only a tiny part of Doctor Who's history despite my protestations that she was highly regarded. She maintained that she did less Doctor Who than many others but I insisted that she was more highly regarded than certain companions who did equal time and in my opinion and great companion from a classic era. She pretended to be overwhelmed as if she'd never had this discussion before, which was sweet.

The Finale

The final guests were Colin Baker and Eugene Washington.

Colin Baker is excellent on stage as you might expect from his articulate and enthusiastic TV interviews. He is never one to hold back an opinion and says some interesting things.

He took issue with Chrispher Eccleston's trumpeting of himself as the first "northern" Doctor and was quite right to point out that Tom Baker was from Liverpool, he himself was from Manchester and Sylvester McCoy was from Scotland! "How far north can you get?!" he asked! Most amusing, and a point well made. The reality is the Christopher Eccleston was the first actor who was allowed to play the role with his own accent, and in the black that Colin Baker has wished for himself, but drew the short straw!

It is obvious from their rapport that he and the hostess Erica are old friends and the interview flowed through many old topics including Baker's first appearance on the show, before playing the Doctor, through to his change into Sylvester McCoy.

The last guest of the day was Eugene Washington who was enthusiastic in the extreme about his role in Doctor Who and was very much enjoying the experience of being a part of this fan world. He was still in great spirits, although clearly hot and bothered, right at the end of the day when he signed for autographs and posed for pictures.

The day ended with an auction, with one lucky punter walking away with an original shooting scipt for "Dalek" for the tiny sum of £20.

All in all, a great day with a good atmosphere, and I look forward to the next Fans Like Us event. You can download a short video documentary made by another Doctor Who fan site here: The Cavern Documentary Video - Be warned its an 84 Meg download!