The Random Thoughts of The Mind Robber - 2004 - Sorted by Oldest First
6th Jan 2004 - Conspire No More!
How funny! It turns out it wasn't just me and my dad asking the question about why McGann wasn't included in the documentary.

"The message boards have been alive recently with speculation about whether or not the BBC is disowning the 1996 Paul McGann TV Movie.

At the time of writing no statement has been made by the TV Series production office about whether or not it will be referring to the original series or the TV Movie.
Fan fears were sparked off when the Eighth Doctor was left out of The Story Of Doctor Who documentary, and theories abounded that this was all part of a carefully orchestrated BBC conspiracy to rewrite the history of Doctor Who.
The truth couldn't be more different - here's the original audience response prepared for BBC Information:

The producers decided to concentrate on Doctor Who during the period when it was an on-going series (between 1963 and 1989) so the documentary only covers the home-grown BBC episodes."

Read the Article
---
Fri 9th Jan 2004 - Hearing Problems
I was talking to a friend about how when you're little you don't seem to hear things correctly but you just kind of accept it as nonsense rather asking someone for clarification.

Having been exposed to Sylvester McCoy at a young age he provided so many lines which sounded like total nonsense and my poor brain formed them into things which were at least sort of words. I know what they all are now, of course... most of them, but here are a few of my favourites:

With regard to the glittery thing he builds to confuse the Daleks he comments:
"I rigged something like it on the speed-o-drome."

And, when he's questioned about why they need to take explosives too:
"This thing merely disorientates and weakens them. What d'you expect to do then, top them sterling?"

Prof Jensen: "We've had report of a radar contact"
Doctor: "On a re-entry curb from lorbe?"

I recall the Black and Silver Dalek screams "It's sanny day!" before it explodes.

In the mothership at the end, a Dalek says "Primary nutrient release"... and then the next one adds "For the lapse, instigated.".

And one I still dont know what he says - Captain Gilmour:
"Shouldn't we send for reinforcements? Arm the druids?"
---
15th Jan 2004 - BBC finds missing Dalek episode
Wow!
---
22nd Jan 2004 - McGann on Warner
"I think if somebody wants it more - and again, this is purely, purely rumour, so this could be nonsense, but not only have I heard that David Warner is up for it, but he really wants to do it. And if that's the case then they should give it to him, because you can't beat that. You can't beat passion."

Said Paul McGann.
---
Mon 9th Feb 2004 - RTD on South Bank Show
Russel T on The South Bank show. I've always thought he seemed a very nice chap. I think we might be in safe hands.
---
Thu 4th March 2004 - Who Writers Revealed
The BBC's internal newsletter, says the writers for the new series of Doctor Who will be Steven Moffatt, Mark Gatiss, Paul Cornell and Russell T Davies.
---
Fri 19th March 2004 - Daleks to return?
The BBC News Online Entertainment section has reported that negotiations are underway about a variety of monsters, including the Daleks.
"Negotiations are going on all over the place about the monsters, including the Daleks. We are just waiting to see what comes out," a BBC spokeswoman told News Online.
---
Fri 2nd Apr 2004 - Thank God
Who fans can breathe a sigh of relief though. Interviewed this afternoon by BBC Radio Four, Grade said of the new series: "This time it's none of my business what happens to Doctor Who, as long as I don't have to watch it."
---
Tue 25th May 2004 - Spoilers
I just read a big spoiler about the new two-part Who story called Aliens of London.... Lots of plot details... quite detailed and curiously believable.... very very "Avengers" though.... More "Avengers" than "Who" in fact....

Sufficed to say I'm getting really excited about seeing it now! Even if it does start at Xmas, that's nowhere near soon enough!

Regarding the casting of Billie Piper, I wouldn't be anything like as worried about Billie as Bonnie Langford. Certain of Billie's appeal is in her looks I have to admit.... And at least she's not an abbrasive, irritatingly-haired, over-acting panto person. She's done right proper drama without a polka-dot blouse in sight.

At worst she's done a few dodgy songs ... but come on, we don't judge Jon Pertwee by the "I am the Doctor!" record do we?

Now there's a poser ... ten people who've been in Doctor Who and made a record.

So far I've got Roberta Tovey and Ken Dodd....
---
Wed 16th June - Second Coming
Just bought Second Coming on DVD. Never saw it on the telly . Eager to see the Davies/Ecclestone writer/actor match up.
---
June 23rd 2004 - Eccleston Leaving?
Rumours about that Eccleston has had a bust up and walked out of the new production. OG reports some rumours come from quite a reliable source but that it's just a bad rumour gone wild.
---
Mon 12th July 2004 - Hints
Been reading the latest Doctor Who Who mag with the interviews with the script editors and stuff. God its so exciting! Love the little comments about Cornell's script bringing a tear, and Gatiss' being funny and gothic and all that stuff. I don't want to learn much but its just so tantalising!
---
Fri 16th July 2004 - FX
These guys are doing the special effects for the new series...

http://www.mill.co.uk/
---
Wed 21st July 2004 - BBC Wales Interview
I loved the leather jacket for the Doctor. Its spot on. Exactly what's needed. Down to earth and cool. I don't think another Victorian ponce would have cut it with the kids of today. A nicely tailored modern suit might have done it but no, I'm liking the jacket.

An episode set the 1860s! RTD is loving throwing fans scraps!
---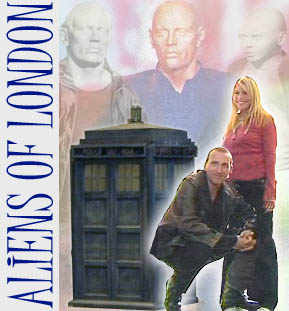 Tue 27th July 2004 -
Aliens of London
With the very little promotional material and spoiler pictures available, I knocked up the image on the right for the episode Aliens of London which, rumour has it, features the Autons, as photographed by our beloved tabloid newspapers.

Also pictures is the new TARDIS prop which looks a tad wide but I'm not really complaining!

I still can't really believe it ...

Its the Ninth Doctor and Umpteenth Companion!
---
Mon 2nd August 2004 - Dreaming
How sad is this - I've had two dreams now about watching the new series!
---
Thu 5th Aug 2004 - Dalek Spoilers!
Rob Shearman is apparently writing the Dalek episode! And if you've heard Jubilee you'll agree that's superb news! And its a teeny hint as to the story!

Apparently, in a plot not dis-similar to Alien, there is one rogue Dalek which they have to hunt. It's also worth noting that Shearman's Jubilee was a similar solo-Dalek story and very good indeed.

Shearman's script hasn't been delivered yet, which would make sense considering he would have been told he's writing a Dalek story, then told he couldn't have the Daleks in it, so he's had to re-write it, and now he's told he can again so its been re-written again!
---
Tue 7th September - Casting
Simon Callow is playing Charles Dickins!
---
Fri 10th Sept 2004 - More?!
'BBC controller of drama commissioning Jane Tranter told Broadcast that Russell T Davies will be producing a three part adaptation of "Casanova" for the BBC beginning in late February 2005, before hopefuly returning to production of the second season of "Doctor Who" later in the year.'

I can't believe they're talking about season two already!
---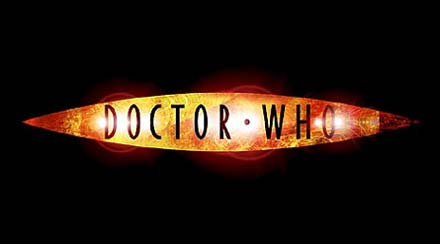 Tue 19th Sept - Official Logo
The official logo has been revealed. I tried to have a go at predicting what it was going to look like, based on insider gossip, and to be honest the official outcome isn't much better than my rough mockup!

Funny looking at old logos. The McGann logo is just the Pertwee logo, albeit with a bit of chrome effect.

The McCoy logo was my childhood one so that's the one I doodled, but I have no arguements now that its absolutely shocking. The neon logo looks cack.

Watched Ghost Light today on DVD, wondering if the maturity I have gained since I last watched it would allow me to insights into it which my youth hadn't afforded. Did it hell. Its absolute nonsense. Stylish nonsense, but it really is an awful excuse for a story. I won't bore you by restating all the things which make absolutely no sense. I even read a Doctor Who article before-hand which supposedly explained what it was about, and watching it still made no sense!
---
Tue 2nd November 2004 - DALEKS!
There are two Dalek stories, supposedly one with the "classic" Daleks - i.e. the image here, and one with supposedly redesigned Daleks which can fly and all sorts.

And here's what else I know about the new series:

In episode 1, the moment that Rose first walks into the TARDIS will be captured from her own perspective. Mark Benton's character Clive is a loan shark and is said to appear in this story.
Episode 2 will take place on board a space station, and the episode will feature a whole variety of alien creatures and life forms. This is the one in which they witness the natural end of the world in the far future. (But didn't the Time Lords move Earth according to The Mysterious Planet?)
Rob Sherman's episode 6 is expected to feature the Daleks as we know them, in their original form, before returning in episodes 12-13 with a complete re-design in a 'Daleks Invade Earth' type plot.
Episode 8 will involve Rose trying to alter the death of her father in an emotional and sad episode.
Finally, Steven Moffat's two parter (ep 9&10) is apparently set during the Blitz.
---
Mon 22nd Nov 2004 - Daleks in 3D
Ohh Its just too exciting for words. I think I'll use my week off to model a Dalek in 3D then I can do some renders and disseminate them around the internet as photos from the set and confuse people.
---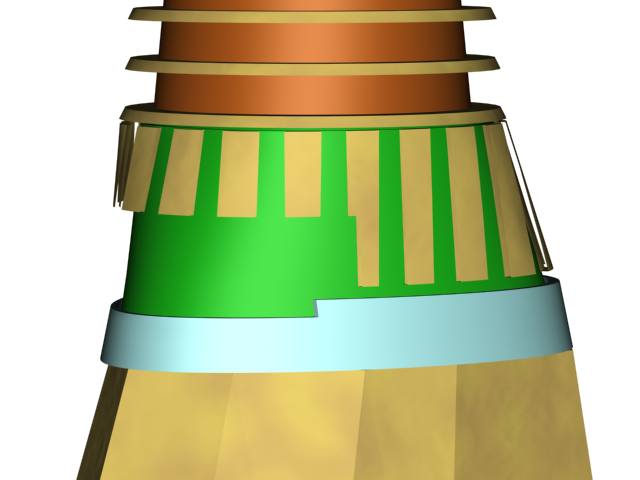 Thu 25th Nov 2004 - Dalek Progress
Dalek is coming along. It really is the most impossible shape in the world. The bottom starts as an 11-sided shape with a point at the front, then above that it has like a pear-shaped cylinder that rises up, but by the time the pear-shape has reached the neck rings its become a perfect cylinder. Its an amazing piece of design.
But I have a problem. I've got to do all these slats around the mid-section and they're all totally irregular. Some are near-vertical and some are quite sloped inwards, but they're all narrower at the top. The way I've decided to do it is with lots of cheating boolean.
Cutting boxes out of a deformed cylinder. But my problem now is that its gone all a bit wrong. The surfaces are see-through at certain angles. I need a modifier which can be used to invert the vertext points?
---
Fri 3rd Dec 2004 - Callow
I just passed this snippet along to OG:

" I thought you might like to know that Simon Callow was on The Frank Skinner Show tonight on ITV1 talking about Phantom of the Opera and the new series of Doctor Who. He said that Doctor Who fans were weird and that he was aware that once you're in the series you're part of Doctor Who forever. He claimed that fans would turn up during the filming in Cardiff at 3am dressed in Doctor Who costumes amid the pararazzi who were climbing on things to take pictures. He said that his character Charles Dickens 'teams up with the Doctor to save the Earth from alien infestation."
---
2003 Archive | 2004 Archive | 2005 Archive | 2006 Archive | 2007 Archive | 2008